Pool Design Guide
The Ultimate Guide to Designing Your Perfect Pool
Explore alternative pool options that are as versatile as they are distinct
With summer around the corner, we're thrilled that you've decided to take the plunge and join the thousands of homeowners who've made an Endless Pools® Swim Spa or Original Series pool their go-to space for fun, fitness, relaxation. We know you're looking forward to the moment when you can start enjoying your pool, but first, there are some important choices to consider.
At Endless Pools, we offer a wide variety of models, features, and add-ons to fit your unique needs. This guide will help you navigate product selection, popular features and accessories, and installation options to get the most out of your investment. Take the time to do some planning up front, and soon you'll be taking delivery of your new pool, personalized to suit your family, home and lifestyle.
Swim Spa or Original Series Pool?
When exploring your options, the first thing to consider is which Endless Pools product line is right for you? Our Original Series modular pools come in sections and are assembled on site, and are a practical choice for both indoor and outdoor use, while our Swim Spas combine the fun and functionality of a pool and spa in a single unit. Which product line you select will be based on a number of factors, including how you plan to use it, where and how you install it, and the general "look" of the pool you want.
MAKE A SPLASH WITH AN ENDLESS POOLS SWIM SPA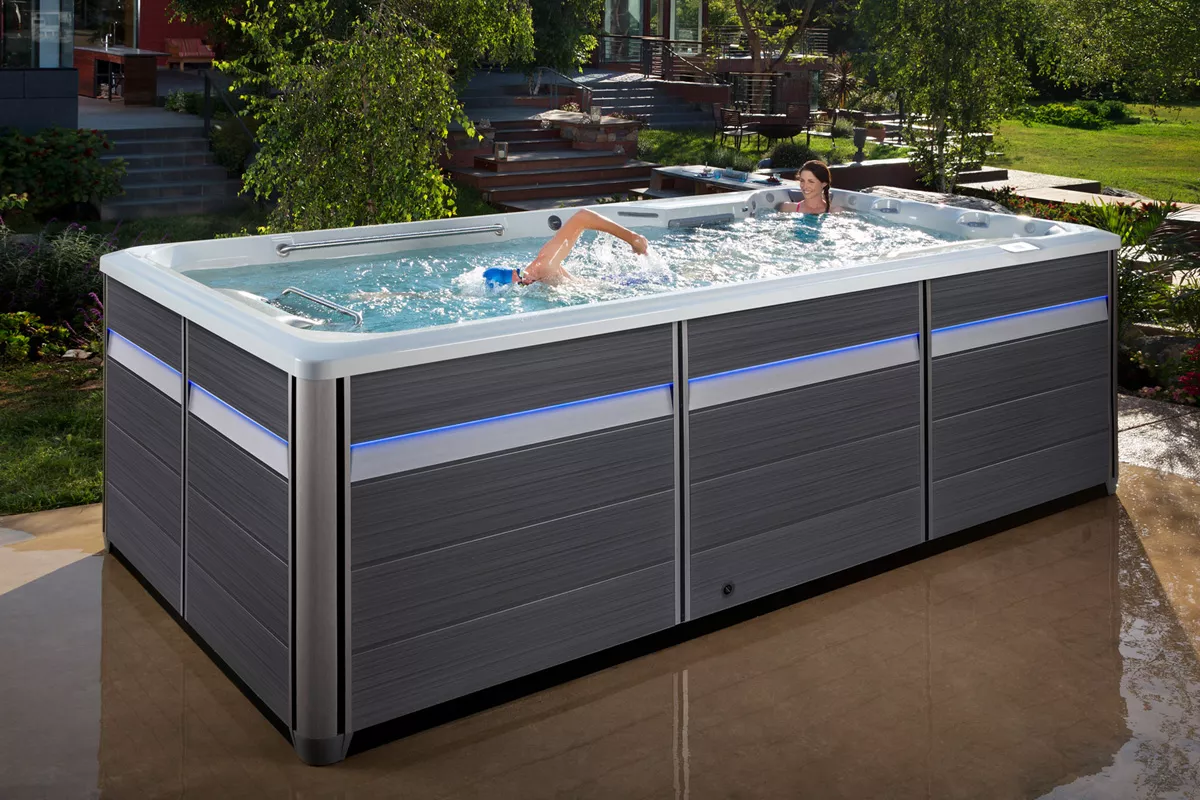 Endless Pools Swim Spas deliver everything you need for fun, fitness, and relaxation in one sleek package. Ranging in length from twelve to twenty feet, they come fully assembled, ready to be installed outdoors, or indoors in spaces with access wider than 94".
Swim Spas offer ample room to swim, float, and play, and include hot tub features such as hydromassage jets, LED lighting, and built-in spa seating. Each swim spa model comes with a current feature for swimming in place and exercise resistance. Our E-Series models include the Endless Pools signature current and optional underwater treadmill for additional low-impact exercise.
Swim Spas are a popular choice for families, fitness enthusiasts, and swimmers of all levels. They are easy to install, and feature insulated cabinets and a fitted cover, making them the ideal pool for year-round use.
OUR VERSATILE ORIGINAL SERIES POOLS
Endless Pools Original Series pools offer a wide range of possibilities. Create a compact backyard pool design or customize the indoor pool room of your dreams. Original Series pools are delivered in modular components, ready to be assembled on-site by a contractor or as a DIY project for the handy homeowner. Their design makes them easy to install anywhere, indoors or out, in-ground, above-ground, or in between. Pieces can easily fit through doorways and staircases, allowing them to be installed in tight spaces.
With our Original Series pools, your options are limited only by your imagination. Design an aquatic oasis that's as beautiful as it is practical by using custom materials that compliment your home or landscaping, or choose our easy to install exterior skirting options. Like our Swim Spas, fitness options such as an Underwater Treadmill or Aquabike can be installed for the ultimate aquatic workout, and you can choose from multiple currents to suit your swimming and fitness goals.
Original Series pools are a hit with homeowners who desire a practical, cost-effective indoor or outdoor pool that reflects their design aesthetic.
ENDLESS POOLS ARE THE SMART SOLUTION
One of the major benefits of both the Swim Spa and Original Series pool from Endless Pools is their low maintenance and energy-efficient design. Both options use a state-of-the-art filtration system that requires minimal maintenance, reducing the need for costly chemicals and frequent cleaning.
Whether you choose a Swim Spa or Original Series Pool, the possibilities to personalize your pool and create custom backyard spa designs are endless! Add-ons and options help power up your fitness routine, provide a go-to spot for family fun, compliment your design aesthetic, and more.
If you need some help narrowing down your options, or finding a solution that fits your budget, our Design & Price tool lets you view our models and pricing, and add the features you're looking for. Use our Compare Tool to learn more about and compare the products you're curious about.
Once you've chosen a product, take the extra step to make it your own with an assortment of fitness, design, and convenience features.
Fitness Accessories
UNDERWATER TREADMILL
Our exclusive Underwater Treadmill is the ideal choice for fitness, rehab, pain management, and cross-training. Available for all E-Series model Swim Spas, and most Original Series pools, the Underwater Treadmill can operate at any speed up to 5.5 miles per hour. Let the cool water support you as you enjoy a relaxing stroll, or run against the current for maximum resistance – either way, you'll burn calories and improve cardiovascular fitness with minimal impact on your knees and back.
AQUABIKE
You'll stay cool, burn calories, and have fun when you add the lightweight Aquabike to your fitness routine. The Aquabike can be added to any Endless Pools model to provide an effective cardio workout safely, with less stress on joints and muscles. Ride against the current to increase the resistance – without the risk of road-rash. The Aquabike is packed with adjustable features for maximum comfort and stability.
UNDERWATER MIRROR
"Mirror, mirror in the pool…" Perfect your stroke as you go with our 24" x 51" stainless steel floor mirror. Placed on the floor in front of your adjustable current, this handy accessory stays in place thanks to gentle suction. Serious swimmers benefit from watching themselves as they swim, and the mirror is also a hit with kids, encouraging them to swim and enjoy a more active playtime.
PACE DISPLAY
With the Pace Display, you can easily keep track of your swim current pace or treadmill speed while you exercise.
ENDLESS POOLS® FIT@HOME® APP
Maximize your aquatic workout with the Fit@Home® App! Control your current, underwater treadmill, or both – using iOS or Android compatible devices. Easily set the pace and duration with advanced options for creating effective interval workouts. The optional Wifi Kit must be installed for app compatibility.
Design Options
Endless Pools are designed to enhance the look of your backyard, deck, pool room, or wherever you plan to install one. Choose from a variety of options to create a pool that you never tire of, with no guesswork required.
THE STANDARD FINISHES
Our Design & Price tool makes it easy to see and select from our Endless Pools Finish options. Our skirting (the paneling around your pool) is made of a durable finish that mimics the look and texture of wood. Original Series models come in your choice of Weathered Gray or Riverbed Brown and can be easily installed on any exposed wall of your pool. Each of our pool skirting panels alternates 12-inch and 6-inch sections to add dimensionality to your pool walls. Top off the edge of your pool with our durable Apex coping in Summit Gray, Desert Plateau, or Arctic Ice.
Swim Spa models come with your choice of Mocha or Gray cabinet, and an Ice Gray or Alpine White interior shell. Contoured panels along with standard and accessory interior and perimeter lighting packages highlight the modern styling.
THE CUSTOM APPROACH
The sky's the limit when it comes to creating your custom solution. Surround your pool with materials like stone, pavers, decking, and more to create a gorgeous focal point for your indoor or outdoor space – the possibilities are truly endless!
If you plan to install your Original Series pool above ground, you can select from our finish materials for the exterior, or work with your contractor, landscaper or architect to create a unique design with custom materials that reflect your personal aesthetic.
Check out our Photo Gallery to view real customer installations, or request a free Inspiration Guide for ideas from the simple to the sublime!
SEE IT IN YOUR SPACE
With our AR (Augmented Reality) App, you can narrow down your favorite models and features, then with a touch, position and reposition them in your own space.
Convenience Features
INTERIOR LIGHTING
Lighting can add a dramatic element to your pool experience. Our Swim Spas offer a variety of lighting options, including underwater LED lights and perimeter lighting. Interior LED Lighting is also available for Original Series pools.
BLUETOOTH®-ENABLED SOUND SYSTEM
Details make all the difference! Pair any Bluetooth®-enabled device through the control panel to listen to your favorite playlist or podcast, anytime. With this integrated 8-speaker system, you can set the mood for motivation, relaxation, or party time. Optional sound system package is available on swim spa models only.
GECKO® IN.TOUCH MOBILE AND WIFI KIT
The optional plug-and-play Gecko® In.Touch WiFi and Mobile App lets you control your swim spa's temperature, lights, and jets from any WiFi-enabled tablet or mobile device.
POOL COVERS PROVIDE PEACE OF MIND
Pool covers prevent children and pets from falling into the pool, lock in heat and moisture, and keep leaves and debris out of the water. Covers come in an assortment of colors, with manual or automatic controls, and above-deck or below-deck designs for the most polished look. All of our pool covers meet stringent ASTM F1346 safety standards. Choose from the following options for your Original Series pool or Swim Spa.
ORIGINAL SERIES MODELS STAY SAFE AND SECURE WITH MANUAL AND AUTOMATIC COVER OPTIONS
Choose our popular Manual Security Cover with hand crank operation and lock and key security, or opt for the effortless operation of our Automatic Security Cover. Either way, you'll rest easy knowing our sturdy covers, when properly installed, can support up to 275 lbs.
SWIM SPA COVERS
Maintain heat and reduce evaporation with the Watkins swim spa cover set. It's made from durable polyester material that resists fading and degradation, offers excellent abrasion resistance, and will not absorb water. This attractive cover is black with white stitching, and is easy to clean and maintain. We want you to get your workout when you're inside the pool, not when you're opening it! Choose from the following Cover Lifting options to do the "heavy lifting" for you and make accessing your pool a breeze:
Uprite™ Lifter Set
CoverCradle® Lifter
Easy Slider Cover Mounts
Learn more about our Swim Spa cover options.
4-TIER STEP
To get in and out of your Swim Spa safely, look no further than our 4-Tier Step. It features two handrails and a back rail, allowing for multiple configurations when in use. This easy to install unit has a 400 pound capacity.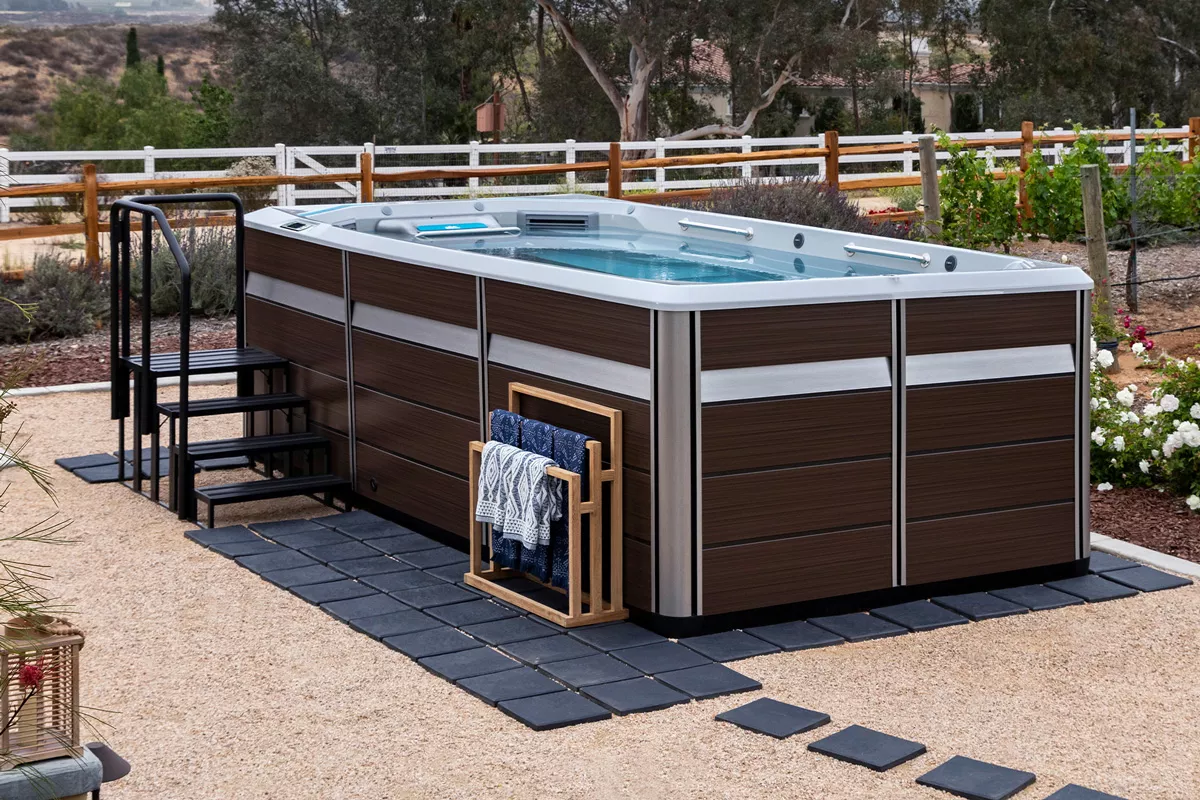 Endless Pools Installation Options
INSTALLING AN ENDLESS POOLS SWIM SPA
We can help you navigate the installation process. Compared to a traditional pool, swim spa installations can be relatively simple, but be sure to keep these important steps in mind:
Select a location for your pool, and make sure it complies with local zoning and HOA requirements.
Determine if your swim spa will be installed above ground, in-ground, or surrounded by decking or other material.
Make sure that you have a solid, level foundation for your pool.
Install the necessary electrical connections.
Contact your Endless Pools dealer to arrange for delivery of your pool.
When the pool is installed and level, fill it with water and add the necessary chemicals to maintain water quality.
INSTALLING AN ENDLESS POOLS ORIGINAL SERIES POOL
Endless Pools Original Series pools are modular, and can be installed in-ground, above-ground, or partially in-ground, indoors or outside. Each option has its own set of requirements. Make sure that you allow space for pool equipment, and for above ground installations be sure you have stairs, steps, or a way to access the pool. Depending on the location and level of customization, installation can be a relatively simple DIY process, or a more complex project. In most cases, it's recommended that you hire a professional installer with experience in pool installation to ensure that the job is done properly. For more information, connect with one of our Product Specialists to have any of your questions answered at your convenience.